The bespoke integration of six systems into one decision-making screen for BW:Workplace Experts
6 into 1
Successfully bringing data from six locations into a single view
Improved Decision-making
Quicker and better decisions on subcontrator selection
Faster Turnarounds
Less time spent on manual and internal processes
Creating A Better, More Efficient Experience For BW: Workplace Experts, Its Employees and Customers
One of the largest, forward-thinking, workplace experts.
BW: Workplace Experts have been in the business of fitting out commercial spaces for over twenty years. They create beautiful spaces for some of the world's largest brands and organisations.
Tackling more than fifty large-scale projects every year, BW: Workplace Experts will subcontract to between 25-60 organisations on each project. Every creation is a masterclass in multi-layered, multi-contract project management. From design, to construction, to painting and decorating; BW: Workplace Experts manages every aspect of every build.
Digital Transformation with people at the center.
Quickly accessible relevant information is key to making great decisions. When Codiance started working with BW: Workplace Experts, they had several enterprise CMS systems holding great decision-making data. However most processes were manual and few of the systems talked to each other. Thousands of people-hours were used every year simply organising and gathering information.
Our initial work fell into 3 clear phases. Each one a game-changer in the ease of decision-making.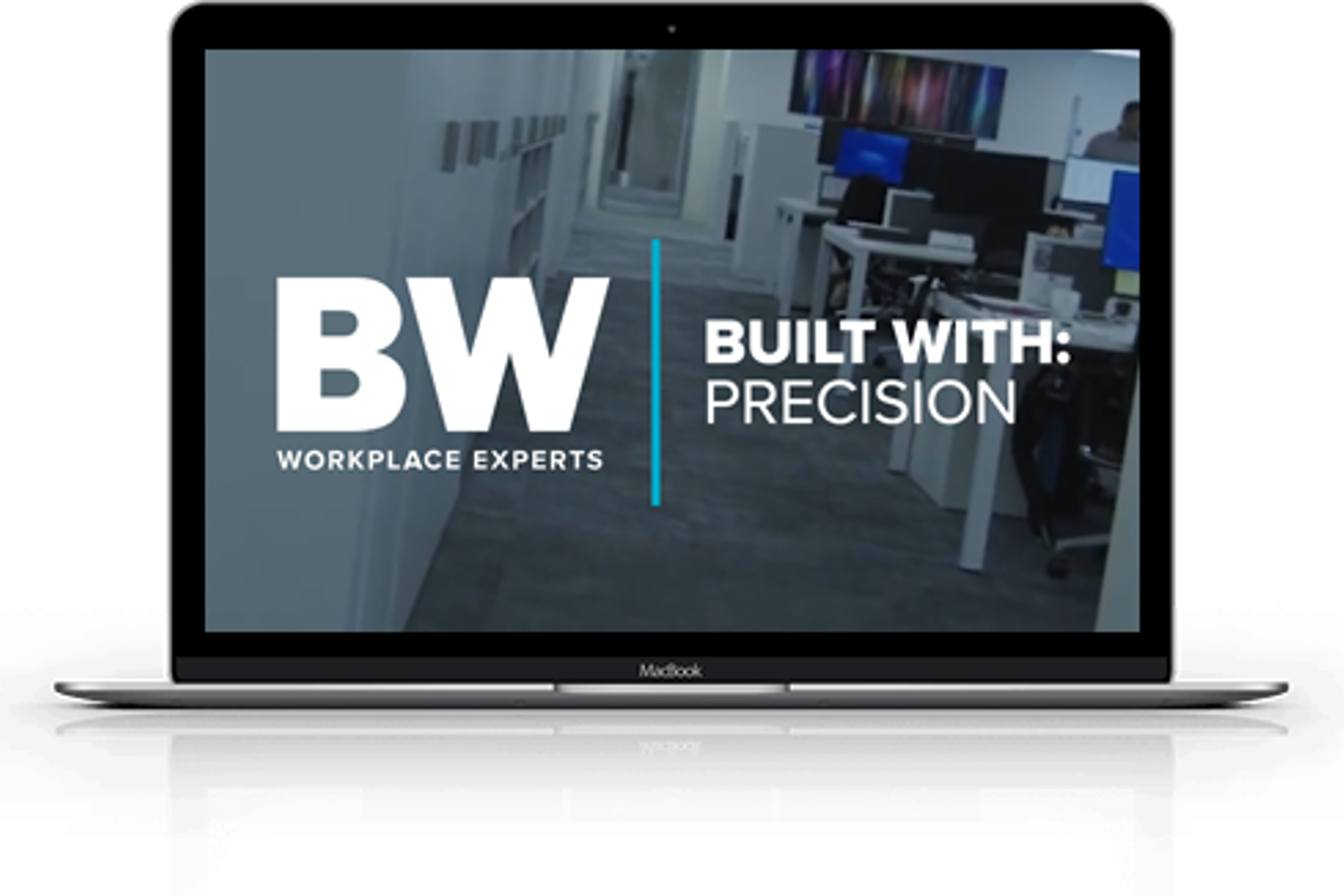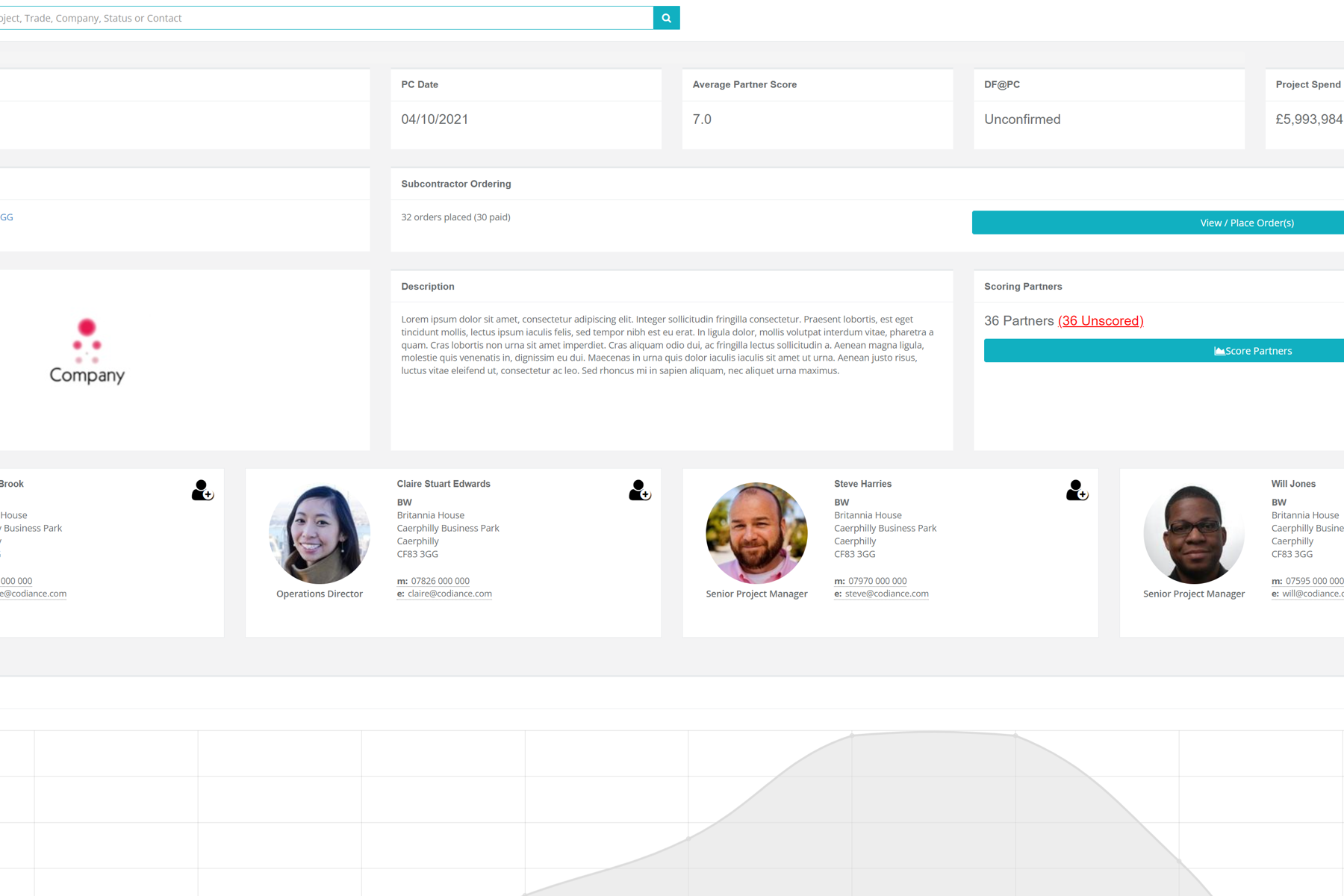 Phase 1: Visual consumption for better decision-making.
The most fundamental problem to solve was making all the decision-making information visible at a glance. One look at one screen - no reliance on other teams or processes.
We integrated all their CMS systems and data-points. No matter the structure or format, they now all talked to each other. A very complex undertaking by itself! A great example of the impact was tracking 'new jobs' for contractors.
Before our integration, you couldn't easily see how many new jobs a contractor had lined up. With 25-60 subcontractors per workplace, even project managers within the same team couldn't track overbooked contractors.
At a glance, you can now see the number of jobs for each contractor, integrated with other key decision making information. If they're highly subscribed, simply choose another contractor. All at a glance.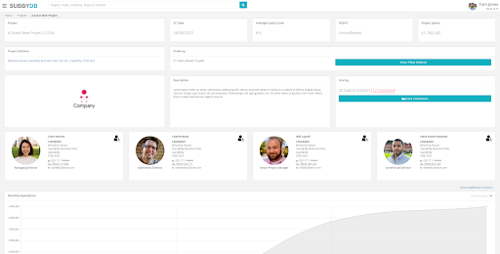 "This didn't simply make information easier to see, this transformed the process and saved many problems further downstream."
Steve Buchanan, Head of IT, BW: Workplace Experts
Phase 2: Third party data integration for quicker decision-making
Next, how could we improve decision-making with 3rd party data? Introducing instantly-viewable credit scoring was the next major transformation.
A full credit report would require additional external team resources to generate and review. Credit checks were only carried out for large contracts - it was too time-consuming otherwise.
Unfortunately - and particularly during Covid - a contractor would go into liquidation without prior warning. With no credit check, safeguards were limited. Projects were delayed.
We found a way to use existing contractor information to automatically run a compressed credit check that provided the key information required to make a decision.

Phase 3: Creating better data to improve client satisfaction
We had already integrated an easily visible scoring system for every contractor in phase 1. This made it easier for project managers to choose and rate contractors. Next, we wanted to help contractors rate BW: Workplace Experts.
By making it simple for contractors to rate BW: Workplace Experts, it became simple to spot improvement opportunities and secure more world-class contractors to work with. This has led to even better working relationships and end-client satisfaction.
An extension of the BW: Workplace Experts Team.
There will always be ways to improve a system and make the running of a business more successful and enjoyable. We're now into phase 4, where we're helping BW: Workplace Experts to automate the creation of orders and contracts - all within the same system.
We're helping BW: Workplace Experts become more efficient, lessen the errors and get paperwork done quicker. We're helping them secure and deliver even more projects. It's been exciting, and there's still more to do!
make us part of your journey
We're always keen to speak to people about their exciting ideas.
Please get in touch for a friendly, no obligation conversation with one of our engineers.
Get in touch with us now