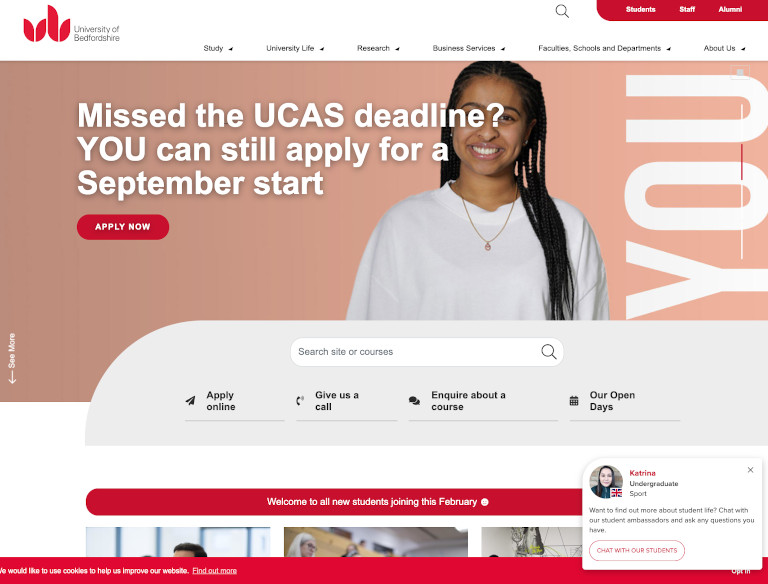 The CMS for Higher Education
Codiance Higher is the most flexible CMS for higher education. Built on Umbraco's friendly CMS infrastructure, we've designed our content management system to meet the specific requirements of each university.
Trusted by universities including the University of Bedfordshire, we've built integrations that simplify your workflow, on infrastructure that ensures you can scale quickly for clearing, with an interface that makes it safe for anyone to contribute. Get in touch to see how Codiance Higher can help your university.
Quickly scale for clearing and high demand events
Codiance Higher is built with Microsoft Azure hosting, providing you 99.9% uptime, even during clearing
Optimise performance to each of your key recruitment regions, including South-east Asia
Have complete confidence with multiple fall backs that are built to the specific needs of your university
see how we help you scale for demand
We've made it safe and simple for anyone to contribute with Walled Gardens
Complete control over editing rights that gives confidence to contributors and prevents any destructive changes.
Decide who can edit and who can publish. Build a workflow that ensures new content is complete before publishing.
Track action items to ensure every contributor and editor knows exactly what needs to be done.
see how we gave 200 contributors the confidence to build
Integrate any 3rd party data and display it to your specific requirements...
A flexible architecture that allows completely customised data import routines.
No matter the format, we can import into our CMS.
Automatic scheduling and reporting of issues during import.
see why umbraco is our cms of choice
Simple customisation with Umbraco Apps.
Based on Umbraco infrastructure, allowing high level of customisation for your specific content needs.
Custom Apps can be built in-house to your specification and requirements.
Simple to set up, install and use without technical know-how.
get in touch
And we're an extension of your team: our hands-on developer support.
Friendly developer support from a team with expertise in the further education sector.
Discuss requirements with the people writing the code.
24/7 support for critical infrastructure.
meet the team
Get in touch to book your demo!
For a no-obligation discussion regarding your CMS and to see the product in action, please get in touch today!
Why should I use a CMS designed for universities?
The demands of universities have changed in a short amount of time. Whether you're speaking to prospective students, your lecturers or the public at large, your web properties and CMS are at the centre of all your communications. So even if you renewed your CMS quite recently, it's very possible that it can no longer meet the demands of your university.
Codiance Higher has been built specifically to meet the demands of universities today. So whether you're integrating SITS course data into your workflow, or preparing for your next clearing event, Codiance Higher can provide the specific support and functionality you need.
See how we can help you prepare for clearing
Built on Umbraco infrastructure
Codiance Higher has been built on Umbraco infrastructure, ensuring the backbone of Codiance Higher is flexible and compatible with all the latest developments in CMS designed.
Umbraco is an enterprise-grade content management system (CMS) built on the.NET framework, making it super-secure, reliable and fast. Our customers love its intuitive nature, rich features, security, flexibility and ease of scale. It's often called the 'friendly CMS' thanks to its simple user interface and easy editing features.
Umbraco the CMS of choice
Designed with real students in mind
Codiance Higher is more than a back-end CMS. We're all about driving your university forward. We support universities on the front-end design that drives student recruitment. We've created eye-tracking and user-testing studies that look at your web properties and your potential students. In some cases, we've increased open day visits by as much as 68%.
See how our eye-tracking studies have increased website engagement
make us part of your journey
We're always keen to speak to people about their exciting ideas.
Please get in touch for a friendly, no obligation conversation with one of our engineers.
Get in touch with us now