Article
Umbraco CMS Gold Partner Conference and Retiring Umbraco 7
As you know, we're big fans of Umbraco's CMS at Codiance. It's the backbone to our Higher product for universities and we're confident it's the best CMS for most organisations. Its ability to integrate and connect to multiple data sources in a straightforward manner, combined with its flexibility and growing ecosystem, makes Umbraco a great way to future proof your web properties.

We recently attended the Umbraco gold partner conference in London. There were several important updates, including a key announcement for organisations currently on Umbraco 7. Let's go through them:
Simplified integration of 3rd party services
It's fantastic to see more partners coming on board with managed integrations. It's worth saying that we're constantly integrating 3rd party products and data sources that don't have managed integrations, however this expanding roster demonstrates the confidence 3rd parties have in the Umbraco ecosystem. Some of particular interest include HubSpot, Shopify and Semrush. You can see more at marketplace.umbraco.com.
New editor for even better customisation 
Umbraco's editor has always been simple to use with plenty of customisation. The new block grid editor provides even more flexibility, without the need for additional development time.
Essentially, editors can now select extra modules and customise the design whilst editing individual pages (permissions to do this can still be set at a user level). Previously we would use a third-party plugin or spend time developing solutions to provide this. With Umbraco 11, this customisation is available right out of the box and is part of the base product. We expect to see this further developed and we're sure it will receive new features and improvements going forward.
So simple customisation has become even easier. With a great selection of templates now defined within Umbraco itself, there's less time spent developing, and more time spent by you, publishing great, engaging content.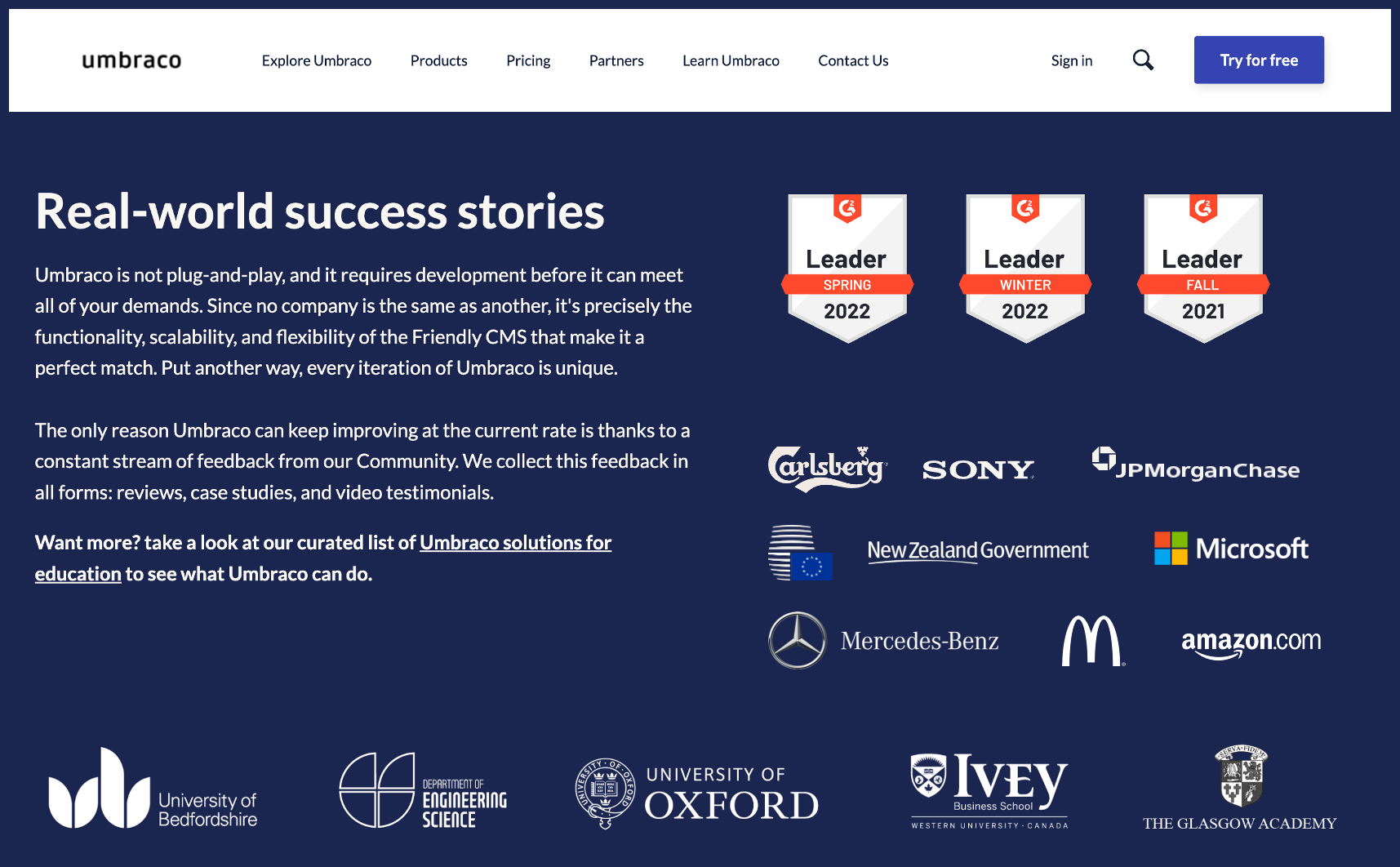 End of life support for Umbraco V 7 and why now is the time to migrate
As has been expected for some time, Umbraco will shortly be retiring V7 of their CMS. This means that Umbraco will no longer provide maintenance updates for this version.
One of the key concerns for those on Umbraco 7 includes addressing new and urgent security issues. This should be the critical consideration for all your web properties. Beyond security, newer versions of Umbraco are adopting more modern versions of the underlying technology they're built on, alongside technical innovations in architectural designs. These changes have resulted in some of the updates outlined above.
A Leap Forward
As you can see, the latest version of Umbraco brings new features, optimisations and a better experience to content editors and users alike. However, with such advancements, delaying a migration to newer versions of Umbraco lengthens the time and effort required to perform the upgrade.
So, if you are on version 7, now is the time to look at upgrading. Please get in touch if you'd like a no obligation discussion regarding your current setup and available options!
Adam Arkley, Principal Engineer, Codiance
make us a part of your journey
We're always keen to speak to people about their exciting ideas.
Please get in touch for a friendly, no obligation conversation with one of our engineers.
Get in touch with us now